International Truck & Engines News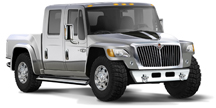 US: Ford tells dealers to halt diesel truck sales
22 March 2007

Ford was reported to have told dealers on Wednesday to temporarily stop selling certain 2008 F-series Super Duty diesel pickups after receiving reports of flames shooting out of the vehicle's tailpipe.
Ford recalls 37,400 f-Series pick-up trucks
Ford Motor Co. is recalling 37,400 Super Duty F-Series pickups after three customers saw flames coming out of the trucks' tailpipes, the U.S. automaker said.
Only 8,400 of the 2008 model-year trucks with 6.4-liter diesel engines have been sold, spokesman Dan Jarvis told United Press International Thursday. The 29,000 others are still on dealer lots. The popular trucks went on sale in February.